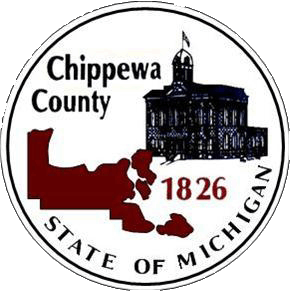 Chippewa County Treasurer
Address:
319 Court Street
Sault Ste. Marie, 49783
​
Phone:
906-635-6308
Office Hours:
Monday - Friday 8:00am to 5:00pm (except holidays)
​
Treasurer:
Carmen Fazzari
​
*All tax information must be obtained over the phone, not through e-mail.
​
Delinquent Tax Records
Chippewa County Delinquent Tax Records are available online and are fee at this time.
Every effort has been made to ensure the accuracy and completeness of the information provided. Chippewa County makes no warranty expressed or implied, regarding errors or omissions and assumes no liability or responsibility for improper or incorrect information or data described and/or contained within this website.
​
To determine your balance due, access the Delinquent Real Property Tax Records by clicking here.
​
Once you have looked up your delinquent real property tax information, or if you already know the amount due, click below to pay using a debit or credit card. This service is offered through GovPay. Gov Pay will assess a 3% fee on credit cards or $3.95 flat rate for debit cards. Click here to make an online payment.
​
Overview
Elected to a four-year term, the County Treasurer serves as the custodian of all County funds, and as such is responsible for receipting, recording and investing all money deposited with the County. The Treasurer is also responsible for maintaining debt service accounts for all the bonded indebtedness of the County.
​
Beginning March 1st of each year the Treasurer collects delinquent real property taxes and following an extensive notification title work process a court order is issued which allows for the sale of properties which are more than 24 months delinquent. The County Treasurer also serves as the agent of the delinquent tax revolving fund, through which the County is able to forward to local units the amount of delinquent taxes due and owing on real property.
The Treasurer is responsible for the certification of deeds and other real estate title transfers prior to recording the documents.

The Treasurer is a member of the Plat Board, the Elections Commission, the County Apportionment Commission and the County Economic Development Corporation.
​