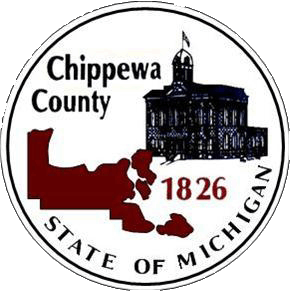 Chippewa County Building Department
Address:
319 Court Street
Sault ste. Marie, MI 49783

Office Hours:
Monday - Friday
8:00am - 10:00am or by appointment
​
Phone:
906-635-6362
​
Building Inspectors:
Frank Sims
Michael Ryckeghem
​
​
Building Permit Process:
Permits shall be obtained and posted prior to starting work.
County/Township
Site Plan Review & Application Forms approved by Township Zoning Administrations and Chippewa County Building Inspector
Chippewa County Equalization
319 Court Street
Sault Ste. Marie, MI 49783
906-635-6304
906-635-6372 (Fax)
​
For required completeness of plans or drawings review the items below:
As a minimum, this office will require 2 sets of plans and specifications, drawn to scale, with sufficient clarity and detail dimensions to show the nature and character of the work to be performed. Including but not limited to:
a) Floor Plans of each floor including exterior dimensions, locations of windows and doors, and identification of all spaces and rooms.
b) Footing and foundation plan including all dimensions, any supporting beams and posts or piers.
c) Exterior Elevations including windows, doors, decks, dormers, roof lines and other projections. Final grade lines shall be shown.
d) Cross Section through exterior wall from footing to highest point on roof. Include joists, beams, rafters, trusses, or other structural members. Identify members and indicate sizes.
e) Site Plan showing location of building or structure, with measurements, in relation to lot lines and other buildings or structures.
Section 106.1 of the Michigan Building Code states, The Construction Documents shall be prepared by or under the direct supervision of a Registered Design Professional when required by article 20 of Public Act 299, and know as the Michigan Occupational Code. This section shall not apply to a residential building containing not more than 3,500 square feet of calculated floor area.
Building permits are issued by Chippewa County
Chippewa County Building Department
319 Court Street
Sault Ste. Marie, MI 49783
Office 906-635-6362
Frank Sims Cell 906-630-0298
Electrical, Mechanical, and Plumbing permits are done by the State of Michigan
Electrical Inspection Ben Bourque (906) 241-3424
Plumbing Inspection Craig Cole (906) 235-8417
Mechanical Inspection Keith Olson (906) 241-0730
​
State permits online at www.michigan.gov/bcc
​
Electrical permit for DeTour Village/DeTour Township only
Electrical Inspection - DeTour Steve Harrison (906) 647-9595
Click here for the DeTour Village/DeTour Township Electrical Permit Application
​
Flood Plain
Linda Hansen 906-483-3896
Building Code Board of Appeals