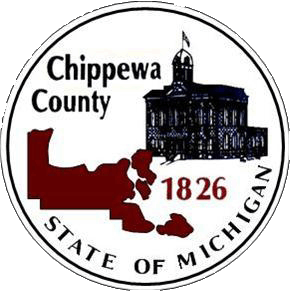 Official Election Result
November 7, 2023
​
​
​
​
​
Upcoming Meetings
Meetings are generally held in the 91st District Courtroom, 2nd Floor of the County Building, located at 325 Court Street, Sault Ste. Marie, MI unless otherwise noted. The following meetings are available for public attendance. If you cannot join us in person, please join us via Zoom (if link(s) are available) by clicking the meeting you would like to attend. ​
​
​
Tuesday, December 19th at 4:30 p.m.
County Building - District Courtroom
​
Thursday, December 21th at 4:30 p.m.
County Building - District Courtroom
​
​
* If Court Proceedings are in session, the meeting(s) will be held in the 50th Circuit Courtroom, at the Courthouse, located at 319 Court Street.
​
​
​
Name searches, deeds, liens, mortgages, land contracts, and other documents pertaining to real estate in Chippewa County may be performed online..........
GIS Map of EUP including: Chippewa and Mackinac Counties, and the City of Sault Ste. Marie
​
Property descriptions, taxable status, owner and taxpayer names, mailing and situs addresses.....